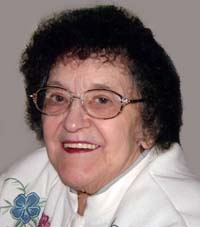 Jeanne d'Arc "Joan" Maio, 78, of Emmett St, passed peacefully October 17th. She was the wife of the late Patrick B. Maio.

Born in Central Falls, a daughter of the late Ernest and Rose Alma (LaSalle) Gazaille. She had been employed as an office worker for many years. In 1994, she retired from the former Bradbury's Pharmacy.

She was a member of the St Mathieu Woman's Club and from the fourth grade sang in their choir. She also sang in the St. Joseph Choir and was a member of the Hubert Chorale. Joan was a member of the St. Ann Society.

She is survived by two sons, Ernest D. Maio of Pawtucket and Philip P. Maio of Central Falls, a sister, Suzanne T. Byrnes of Lincoln and Texas, 3 grandchildren, 2 great granddaughters and several nieces and nephews. She was the sister of the late Gisele Tanguay and Jean-Paul Gazaille.

Her funeral will be held Wednesday at 8:30am from the Keefe Funeral Home, Five Higginson Ave, Lincoln with a Mass of Christian Burial at 9:30am in St. Mathieu Church, Dexter St, Central Falls. Relatives and friends invited, calling hours Tuesday 4-7pm. Burial will be in Notre Dame Cemetery, Pawtucket.